QuickBooks Consulting
Knowing your numbers and ensuring the system is pulling the proper information is #1 to a small business owner. If you think your QuickBooks might needs an overhaul or something isn't quite right, let us help you out.
Ready to streamline your workflow and have your QuickBooks grow as your business grows? Let us help you narrow down your options, save time and money. We'll help you research the different application and prepare an analysis for each system to ensure it meets the requirements and gets the job done. Time Tracking, Inventory, Work Orders, Sales and Marketing, etc.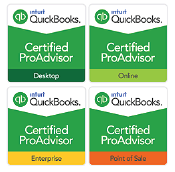 QuickBooks Setup
Don't waste time trying to figure out how to get started, what accounting method you use, what your chart of accounts should look like and what data you need to get entered. When you work with us, we got everything from installation and accounting setup, to getting your data caught up and reconciled.
QuickBooks Diagnostic Service
Our service will provide you with a report on the health of your QuickBooks file. This is your financial data and if not properly accounted for, perhaps will be improperly reported to the IRS. We use our expert QuickBooks Data File Review of your file to find out what's right, what's wrong, and what will need to be fixed. The report will help you understand what needs to happen to bring your file current.
Live Training & Support for QuickBooks and Bookkeeping
Need a little hand holding and walk thru of QuickBooks and Bookkeeping? This is great a great place to start learning how to enter your data, if your books are setup correctly, and you need an accountant eyeball to see if things are being done correctly. Plus, we answer the hard questions!
We offer a variety of topics related to QuickBooks software, bookkeeping, and Microsoft Office. Our training is conducted in 2 hours blocks either in person at our office or via an online meeting and telephone. Our training sessions are perfect for QuickBooks users who need help with specific or industry-related features. We offer standard training or those customized to your business needs. Our 2 hour custom training is just right to learn with your own file and business information. Bring your list of questions and paperwork and lets get busy. You will walk away more confident in how to use QuickBooks to run your business and reporting.
Monthly & Quarterly Checkups
If you're a do it yourselfer or have your office admin entering your bookkeeping transactions, we can offer a piece of mind. Monthly or Quarterly, we will reconcile your bank accounts and correct any errors. Or we will review your staff's work and provide training on any issues we discover.
QuickBooks Support – Hourly & Monthly
If you're frustrated with Intuit Tech Support and been on hold for 30 minutes or more and transferred to another department or even another country, we can help you get your issues resolved. Whether it's a QuickBooks or a Bookkeeping issues, we got you covered. We can help answer the hard questions for you and resolve most of your QuickBooks issues within 30 minutes or less. If you need help quickly, we can also hop on an online meeting. Telephone, Email and Text support $99 per month.
Call or email today for a free consultation and
see if we're a good match to work together.
Office 907-222-4613 | [email protected]